JEFF & ANDREA EICKHOFF
Friday, March 30, 2018
10:00 AM
20385 STATE HWY 16
WYKOFF, Minnesota
SELLING 307.27+/- ACRES IN 4 PARCELS. FILLMORE COUNTY MN BARE FARMLAND. ALL PARCELS ARE LOCATED IN FILLMORE TOWNSHIP. ALL ACRES AND BOUNDARIES ARE SURVEY TO GOVERN. NO BUYER'S PREMIUM. Live Onsite Auction.
PARCEL 1
73.27 ACRES – LEGAL DESCRIPTION SECT-35 TWP. 103- RANGE-012 73.27 ACRES W ½ SW ¼ EXCEPT 6.73 ACRES NW ¼ SW ¼
PARCEL 2
80 ACRES – LEGAL DESCRIPTION SECT. 34 TWP. 103 – RANGE – 012 – 80 ACRES E ½ SE ¼ EX 1.09 ACRES HWY
PARCEL 3
74 ACRES M/L INCLUDING 3.70 ACRES IN THE CRP – LEGAL DESCRIPTION SECT. 26 TWP. 103 – RANGE – 012 – 74 ACRES N ½ NW ¼ LESS THE BUILDING SITE
PARCEL 4
80 ACRES – LEGAL DESCRIPTION SECT.23 TWP. 103 – RANGE – 012 – 80 ACRES W ½ SE ¼
TERMS
10% NONREFUNDABLE DOWN PAYMENT PER PARCEL DAY OF AUCTION. BALANCE DUE AT CLOSING ON OR BEFORE APRIL 30, 2018 OR UPON CLEAR AND MARKETABLE TITLE. BOUNDARIES AND ACREAGE AMOUNTS TO BE DETERMINED BY SURVEY.
PROPERTY BEING SOLD ON AN AS IS BASIS.
M/L = MORE OR LESS
All information contained in this brochure has been gained from sources considered to be reliable, however bidders are invited to inspect the property and make their own investigations of the property and its records. All sales will be presumed to be made upon the individual judgment of the purchaser(s). Each potential bidder is responsible for conducting his or her own independent inspections, investigations, inquiries, and due diligence concerning the property. The information contained in this brochure or other related material is subject to verification by all parties relying on it. The seller and Gehling Auction Company assume no liability for its accuracy, errors, or omissions.
Gehling Auction Company is representing the seller exclusively.
The written purchase agreement to be signed by the seller and buyer after the auction is the sole and controlling document of this sale and supersedes any and all other terms whether verbal, written, expressed or implied and shall be the sole controlling document for this real estate transaction.
Verbal announcements made the day of the auction take precedence over all forms of advertising.
Broker: Matt Gehling- Matt Gehling Realty & Auction CO. LLC
Attorney representing seller:Dwight Luhmann-Luhmann Law LLC
Directions
PARCELS 1 AND 2- LOCATED ON THE SOUTH SIDE OF HIGHWAY 16 – 1 ½ MILES EAST OF THE JUNCTION OF HIGHWAYS 16 AND 80 OR 7 ½ MILES WEST OF PRESTON.
PARCELS 3 AND 4 – LOCATED 1 ½ MILES EAST OF WYKOFF ON HIGHWAY 80 THEN TURN SOUTH ON 205TH AVE.
---
PARCEL 1 AND 2- LOCATED ON THE SOUTH SIDE OF HIGHWAY 16 – 1 ½ MILES EAST OF JUNCTION OF HIGHWAYS 16 AND 80 OR 7 ½ MILES WEST OF PRESTON. PARCEL 3 AND 4 – LOCATED 1 ½ MILES EAST OF WYKOFF ON HIGHWAY 80 THEN TURN SOUTH ON 205TH AVE. Seller's Attorney: Dwight Luhmann, Luhmann Law LLC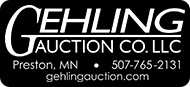 TERMS: 10% non-refundable down payment per parcel on auction day. Balance due at closing on or before April 30th, 2018 or upon clear and marketable title. NO BUYER'S PREMIUM. Boundaries and acreage amounts to be determined by survey. All parcels sell AS IS, no warranty or guarantee implied or expressed. Broker: Matt Gehling, Matt Gehling Realty and Auction Co. LLC
AUCTIONEER: Gehling Auction Co. LLC
CLERK: Gehling Auction Co. LLC

www.gehlingauction.com
email: gehling@gehlingauction.com
---