PLENDL BROS JOINT VENTURE
Thursday, March 15, 2018
10:00 AM
4767 IBEX AVE
ORANGE CITY, Iowa
Most of this equipment was purchased new by the Plendl Brothers. It was kept in a shed & maintained by the John Deere Dealer.
LOCATION: 4767 IBEX AVE ORANGE CITY, IA 51041
DIRECTIONS: CLICK HERE FOR DRIVING DIRECTIONS TO SALE SITE
NOTICE: FOR MORE INFORMATION CONTACT GEHLING AUCTION COMPANY 800-770-0347 OR 507-951-1318. Live Onsite Auction With Available Online Bidding(Webcast). Webcast will start at approximately 10:30 A.M.(online bidding available on large items only).
CLICK HERE FOR PRINTABLE FLYER #1 (PDF FORMAT)

TRACTORS
J D 9430 – 2009 - 4472 hrs.-18 / 6 power shift-Auto Trac Ready-radar-deluxe comfort package-active seat-1000 pto-4 remotes-48 gallon hydraulic pump-diff. lock-H.D. drawbar-xenon light package-20.8 R 42 triples-ser.# RW9430P011081
JD 9430 – 2009 - 4420 hrs.- 18 / 6 power shift-Auto Trac Ready-radar-deluxe comfort package-active seat-1000 pto-4 remotes-48 gallon hydraulic pump-diff. lock-H.D. drawbar-xenon light package-20.8 R 42 triples-ser.# RW9430P010162
J D 8430 MFWD – 2008 – 2086 hrs.- power shift-ILS-Auto Trac Ready w/ plug and play-deluxe command view cab-active seat-1000 pto-4 remotes-3 pt.-60 gallon hydraulic pump-xenon light package-cold weather package-front fenders-22) front weights-2) 1400 lb. rear weights-480/80R50 w/duals-420/85R34 w/duals-ser.# RW8430P028271
J D 8430 MFWD – 2006 – 3601 hrs.-power shift-ILS-Auto Trac Ready w/ plug and play-deluxe comfort package-1000 pto-4 remotes-3 pt.-quick hitch-60 gallon hydraulic pump-xenon light package-cold weather package-front fenders-22) front weights-2) 1400 lb. rear weights-480?80R50 w/ duals-420/85R34 w/ duals-ser.# RW8430P007277
COMBINES
J D 9870 STS – 2010 -2264 Eng Hrs & 1529 Sep Hrs - contour master-premier cab-5 speed feeder house-bullet rotor-bin extension-22' unload auger-extra high capacity lift cylinders-fine cut chopper-power tail board-Firestone 650/85R38 w/ duals-ser.# 1HO9870SPA0736105
J D 9870 STS – 2009 – 2202 Eng Hrs & 1389 Sep Hrs - 4 wheel drive-contour master-premier cab-5 speed feeder house-bullet rotor-bin extension-22' unload auger-extra high lift cylinders-fine cut chopper-power tail board-650/85R38 w/ duals-ser.# HO9870731039
HEADS
J D 635F 35' flex head-2011 w / single point hookup-hydraulic fore and aft-ser.# 1HOO635FTBO741761
J D 635F 35' flex head-2007 w/ single point hookup-low stone dam- hydraulic fore and aft- ser.#HOO635F721086
J D 1293-12 row 30" corn head- 2007-knife rolls-stubble lights-ser.# HO1293X721010
J D 1293-12 row 30" corn head-2006-knife rolls-stubble lights-ser.# HO1293X715911
SPRAYERS
J D 4930 – 2009-1507 hrs.-120' boom w/ 15" spacing-boom trac pro-auto leveling-Auto Trac Ready-radar-xenon lighting package-wheel slip control-block heater-section control-right and left hand fence row nozzles- J D 2630 GS3 monitor-380/105R50-ser.# NO4930X006468
Hardi Navigator 1000 gallon pull type sprayer w/ 80' boom-3 way nozzles-rinse tank-foam marker-1000 rpm pto pump-ser.# 4165
PLANTERS
J D 1770NT 24 row 30" CCS –seedstar variable rate-proshaft drive-row command-vacuum w/ minni hoppers-row cleaners-truvee openers w/ 4" walking gauge wheels-pneumatic down pressure-rotary scrapers-markers-small corn, corn and bean disc-rear hitch-ser.# AO1770EF10162
J D 1770 24 row 30" w/ 3 bushel boxes-seedstar variable drive-row cleaners-tru-vee openers w/ 4" walking gauge wheels-pneumatic down pressure-rotary scrapers-corn and bean disc-ser.# HO1770B685153
TILLAGE EQUIPMENT
J D 2625 40'8" rock flex disc-hydraulic fore and aft-ser.# 1NO2265XVCO750150
J D 2200 54' field cultivators-9" spacing-Accu Depth contrl-depth control wheels-coil tine harrow-ser.# NO2200X000527
J D 2200 54' field cultivator-6" spacing- single point depth control-depeth control wheels-coil tine harrow-ser.# NO2200X000592
J D 712 13 shank mulch tiller
Miller 14' 3 bar offset disk
J D 845 16 row 30" cultivator
J D 845 12 row 30" cultivator
MISCELLANEOUS EQUIPMENT
J & M 1326 grain cart-20' unload auger w / control flow grainstorm spout-roll tarp-light package-20.8 X 42 tires on walking tandem axle
Friesen 240 Seed Express tandem axle seed tender w/ scale-conveyor unload-roll tarp-front and rear hopper-remote control-Honda 5 ½ HP engine
J D 265 3 pt. disc mower-540 pto-ser.# EOO265X310292
Loftness Kwik-Pick rock picker
Snow Machine 8' snowblower
2) Unverferth 636 Road Runner tandem axle header carts w/ 4 wheel brakes-dolly wheel hitch-front fenders-225/75R15 tires
2) Unverferth 636 Road Runner tandem axle header carts w/ rear brakes-dolly wheel hitch-front fenders-225/75R15 tires
Thundercreek 1000 gallon tandem axle fuel trailer w/ 7000 lb. axles-gas engine
Lundell 320 gravity box w auger
J D barge box on J D gear
Electric barge box on gear
2) Electric flair boxes on gears w/ hoist
Koyker 1050 auger w/ swing hopper
J D 330 Lawn Tractor w/ deck
Winco 40 KW generator on cart
VEHICLES
2000 Ford F 350 4 X 4 crew cab pickup-111,733 miles-7.3 diesel-6 speed manual transmission
Ford F 350 crew cab w/ bad engine
GPS EQUIPMENT
J D 2630 monitor w/ Auto Trac-ser.# PCGU2UD461748
J D 2630 monitor-ser.# PCGU2UD414344
MISCELLANEOUS
24) J D – 1 .6 bushel seed boxes
24) J D – insecticide boxes
4500 gallon horizontal poly tank
3000 gallon horizontal poly tank
Super hose reel w/ hose
Transfer pump
Aladin hot water pressure washer
Portable wood loading chutey
2) 12 volt pickup fuel tanks
TERMS
For more information call Gehling Auction Co. 1-800-770-0347
Any verbal announcements made day of sale takes precedence over print
All items sold as is, no warranty or guarantee implied or expressed by the sellers or Gehling auction Co.
Some items subject to change
Lunch on grounds
Not responsible for accidents
Terms Cash or good check day of sale
Auctioneers Gehling Auction Co. Denny Brusse 23-03- Ron Gehling 23-10- Matt Gehling 23-14- Dave Holsted-Roger Bullerman- Roger Bentley
Clerk Gehling Auction Co. LLC
---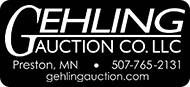 TERMS: CASH OR GOOD CHECK SALE DAY. ALL ITEMS SELL AS IS. NO WARRANTY OR GUARANTEE IMPLIED OR EXPRESSED BY SELLERS OR AUCTION COMPANY.
AUCTIONEER: Gehling Auction Co. LLC: Denny Brusse, Ron Gehling, Matt Gehling, Dave Holstad, Roger Bentley, Roger Bullerman
CLERK: Gehling Auction Company LLC

www.gehlingauction.com
email: gehling@gehlingauction.com
---