VALLEY TRAILER SALES LLC
Saturday, April 7, 2018
9:30 AM
103 20TH ST NE
STEWARTVILLE, Minnesota
COMPLETE LIQUIDATION. GOING OUT OF BUSINESS. MORE PHOTOS TO BE POSTED AT A LATER DATE Something for everyone on this auction. Selling skid loaders, telehandlers, trucks, trailers, cars/pickups, shop equipment, office equipment, attachments, and much much more. This is an on-site auction with available online bidding on large items(must be on-site for shop and office equipment).
LOCATION: 103 20TH ST NE STEWARTVILLE, MN 55976
DIRECTIONS: CLICK HERE FOR DRIVING DIRECTIONS TO SALE SITE
NOTICE: FORMER BOBCAT DEALER. LIVE ONSITE AUCTION WITH AVAILABLE ONLINE BIDDING(WEBCAST). Online bidding will begin approximately 10:30 a.m.
CLICK HERE FOR PRINTABLE FLYER #1 (PDF FORMAT)

Trailers
2011 Featherlite - 6 '6" Utility Trailer
2009 Featherlite - 6'6" Utility Trailer
2006 Featherlite - 6' 6" Utility Trailer
2015 Kiefer 18' - Tandem Axle - Aluminum Car Trailer w /Air Damn
2013 Big Tow - 24' Gooseneck - Tandem Axle Skid Loader Trailer w /10,000 lb. Axles & Ramps
2011 Big Tow - 20' Tandem Axle Tilt Deck Skid Loader Trailer w/7,000 lb. Axles
2015 Midsota - 20' Tandem Axle Tilt Bed Skid Loader Trailer w /7,000 lb. Axles
2006 Towmaster - 20' Tandem Axle Skid Loader Trailer w /7,000 lb. Axles & Ramps
2000 Towmaster - 16' Tandem Axle Skid Loader Trailer w /7,000 lb. Axles & Ramps
2014 H H - 20' Tandem Axle Enclosed Trailer w/ 3,500 lb. Axles & Rear Ramp Door
2006 Featherlite – 7' X 24' Tandem Axle Gooseneck Stock Trailer w /7,000 lb. Axles & 2 Divide Gates
1995 Featherlite 7' X 20' Tandem Axle Gooseneck Stock Trailer.
2009 PJ - 10' Tandem Axle Dump Trailer w / 3,500 lb. Axles
1974 Jackson - 10' 2 Horse Straight Load Trailer
2005 Keystone - 28' 5th Wheel Camper Trailer
Vehicles
2015 Chevrolet Impala LT - 4 Door – 34,134 Miles
2015 Chevrolet Impala LT - 4 Door – 42,284 Miles
2010 Chevrolet Impala LT - 4 Door
2004 Chevrolet Impala LT - 4 Door
2007 Chevrolet Silverado 3500 - Duramax - 4X4 - 201,093 Miles w/ Aluminum Flat Bed
2007 Chevrolet Silverado 3500 - Duramax - 4X4 113,020 Miles w/ Aluminum Flat Bed
2009 Kenworth T 370 - Tandem Axle w/ Century 28' Roll Back Bed
2001 Kenworth W 900 Semi Tractor - 681,000 Miles - Cat 475 - 13 Speed - Air Ride - 270" Wheel Base - 48" Mid Roof Sleeper - Good 24.5 Rubber - Detach Rails - Woods Aluminum Head Ache
2006 Harley Davidson RS Deuce - 5,585 Miles
SKID LOADERS-TELEHANDLERS-FORKLIFTS
Bobcat
S 750 - 2016 - 260 Hrs. - Selectable Joy Stick Control - Cab - Air - Heat - Air Ride Seat
S 750 - 2014 - 448 Hrs. - Cab - Heat - Advanced Control Systems
S 750 - 2013 - 2,293 Hrs. - Cab - Heat - Advanced Control System - 2 Speed
S 750 - 2012 - 3,808 Hrs. - Cab - Air - Heat - 2 Speed - Air Ride Seat - Radio
S 750 - 2013 - 4,493 Hrs. - Cab - Air - Heat - Selectable Joy Stick Control - Air Ride Seat - Radio
S 770 - 2013 - 485 Hrs. - High Flow Hydraulics - Cab - Air - Heat - Hyd. Bucket Positioning - Radio - Block Heater
S 770 - 2014 - 2,550 Hrs. - Cab - Air - Heat - Air Ride Seat - Radio - Block Heater
S 770 - 2012 - 2,578 Hrs. - Cab - Heat - 2 Speed
S 770 - 2012 - 3,256 Hrs. - Cab - Air - Heat - 2 Speed - Air Ride Seat - Radio
S 770 - 2013 - 3,473 Hrs. - Cab - Air - Heat - 2 Speed - Air Ride Seat
S 650 - 2016 - 303 Hrs. - Cab - Heat - Advanced Control System - Radio
S 650 - 2015 - 492 Hrs. - Cab - Air Heat - High Flow Hydraulics - Selectable Joy Stick Control - Air Ride Seat - Strobe Light
S 650 - 2014 - 509 Hrs. - Cab - Air - Heat - Selectable Joy Stick Control - 2 Speed - Ride Control - (Millionth Loader)
S 650 - 2013 - 1,223 Hrs. - Cab - Air - Heat - High Flow Hydraulics - Selectable Joy Stick Control - Air Ride Seat - Radio
S 650 – 2013 - 1,234 Hrs. - Cab - Air - Heat - High Flow Hydraulics - Selectable Joy Stick Control - Air Ride Seat - Radio
S 530 - 2014 - 530 Hrs. - Cab - Heat - 2 Speed - Air Ride Radio - Block Heater
T 650 - 2014 - 579 Hrs .- Cab - Air - Heat - Selectable Joy Stick - 2 Speed - Roller Suspension
T 750 - 2013 - 1,148 Hrs. - Cab - Air - Heat - 2 Speed - Air Ride Seat - Radio - Roller Suspension
T 770 - 2013 - 3,329 Hrs. Cab - Air - Heat - Selectable Joy Stick Control - 2 Speed - Roller Suspension
Genie - GHT 636 Telehandler - 6000 lb.- 36' Reach - 4X4 - 5,197 Hrs. - 99 HP. Diesel
Dieci - 40.7 VS Telehandler - 9,000 lb. - 24' Reach - Cab - Air - Heat -w/ Bucket & Forks
Ingersoll – Rand RT708J Rough Terrain Forklift - 1891 krs. - 4X4 - 8,000 lb. - Straight Mast
Cat 50 Forklift - L.P.
Taylor Forklift - 12' - Gas
SKID LOADER ATTACHMENTS
Bobcat LT 313 Trencher
2) Bobcat 15-C Auger Drive Unit
Bobcat Soil Conditioner
Bobcat 72" Land Plane
Bobcat 78" Tiller
Bobcat Super Scraper
2) Bobcat 84 Angle Brooms
Bobcat 84" Pick-Up Broom
Bobcat 72" Whisker Broom
2) Bobcat Utility 70" Brooms
Bobcat Utility Vehicle 72" Finish Mower
Bobcat Utility Vehicles 70" Bucket
Bobcat Hydraulic Hammer
Bobcat MT Ride Platform
Bobcat SB 200 Snowblower w / 8.0 Motor
Bobcat 73" Vibrating Sheeps Foot Roller w/ Smooth Drum Shell
Bobcat Attachment – Jack Hammer to Skid Loader
Bobcat Excavator Thumb
Bobcat U Blade
Erskine 2010 78" Snowblower w / 8.0 Motor
Lowe Post Hole Auger 10"
Danuser T Post Driver
Cheyenne 200 Hydraulic Tele-Boom
Frontier 3 Pt. Finish Mower
Cat DP -188 78" Pick-Up Broom
3) Post / Tree Puller
Hydraulic Drive PTO - for ASV & Skid Loader
Bobcat 72" Snow Bucket
3) New - Bobcat 36" Excavator Bucket
4) Bobcat 62" G.P. Buckets
Bobcat 66" Fork Grapple Bucket
2) CMP 72" Hydro Bucket
Versa Handler 417 84" Bucket - Also Fits Skid Loader
Berlon 72" Cement Breaker Bucket
2) Berlon Bale Spears
Berlon H.D. Pallet Fork
Cheyenne Quick Tach Double Grapple
Demo - Viring 156 Snowbucket Model HSBP156
2) Pallet Forks
New – Rotary Pallet Fork
66" Industrial Fork Grapple
Manure Scraper
10' Push Blade
Post Hole Augers - 30"-24"-18"-15"-12"& 9"
3) New 68 Low-Pro Buckets
84" Low-Pro Bucket
2) 80" Low-Pro Bucket
72" Low-Pro Bucket
68" Low-Pro Bucket
66" Low-Pro Bucket
88" H.D.- C&I Bbucket
80" C&I Bucket
84" G.P. bucket
84" Snowbucket
84" Bucket
80" Bucket
68" Bucket
67" Bucket
66" Rock Bucket w/ Reel
66" Rock Bucket
3' X 4' Man Basket
10' X 3' Fork Lift Platform
2) sets 12" Skid Loader Tracks
10" Skid Loader Tracks
Over the Wheel Tracks
Assortment of Used Tires & Rims
SHOP EQUIPMENT
Miller S - 22 Wire Feed Welder
Miller 60 Series Wire Feed Welder
Miller Thunder - Bolt Stick Welder
Robin - Air Freon Recovery Unit
A.C. Recovery Unit
Ingersoll - Rand 120 Gallon Single Phase Air Compressor
DeWalt Portable Air Compressor w /Gas Motor
Snap-On Parts Washer
A.C. Delco Cherry Picker
Engine Stand
Air Bumper Jack
14) Jack Stands
Pallet Jack
OTC Alternator / Generator Tester
AES – Starting Unit
Air Greaser
Grease Pump
2) Battery Chargers
Un-used Northstar 2 Stage Air Compressor w/ Honda 390 Engine - To Mount on Service Truck
2) hose reels
Assortment of Hoses
Assortment of Hand Tools
Craftsman Industrial Series 56" Tool Box on Casters
Craftsman Industrial Series 46" Tool Box w / 2-20" Side Boxes
6 Hardware Cabinets w/ Contents
Foreman Write - Up Desk
3) Fire - Proof File Cabinets
Employee Locker
36" Portable Fan
Aluminum L-Shaped Fuel Tank w / Tool Box
JD 4400 W - Gas Gen Set
Leading LDE 6800 TA Diesel Gen Set
Amida AL 4060 Light Tower
Wacker LTN6L Light Tower
100" X 96" X 40' Storage Unit
Miscellaneous Used Parts
OFFICE EQUIPMENT
Executive 72" Desk - Excellent
Executive 60" Desk w/ Return - Excellent
2) Hon U Shaped Desks
3) 228" X 200" 2) Unit Offices 60" Desks w/ Returns
10' Conference Tables w/ 7 Chairs - Excellent
Conference Table w / 6 Chairs - Nice
42" Round Office Table
8) Side Chairs
164" X 152" X 117" U Shaped Reception Station w/ Trans - Action Counter
2) Book Cases
2 Drawer Horizontal File Cabinet
Aticio Copy Machine
4) Flat Screen TV
2) Refrigerators
---
SOME ITEMS SUBJECT TO CHANGE. VERBAL ANNOUNCEMENTS MADE SALE DAY TAKE PRECEDENCE OVER ALL FORMS OF ADVERTISING. LUNCH ON GROUNDS. WE ARE NOT RESPONSIBLE FOR ACCIDENTS OR THEFT. FOR MORE INFORMATION CALL 507-292-1003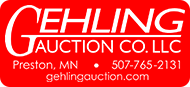 TERMS: CASH OR GOOD CHECK ON THE DAY OF THE AUCTION. ALL ITEMS SOLD AS IS. NO WARRANTY OR GUARANTEE IMPLIED OR EXPRESSED BY SELLER OR AUCTION COMPANY. NOTHING REMOVED UNTIL SETTLED FOR.
AUCTIONEER: Gehling Auction Company LLC: Matt Gehling, Ron Gehling, Dave Holstad, Roger Bentley, Roger Bullerman
CLERK: Gehling Auction Co. LLC

www.gehlingauction.com
email: gehling@gehlingauction.com
---