Wessels Farms
Friday, August 9, 2019
11:00 A.M.
42061 County Road R16
Buffalo Center, Iowa
Got equipment questions? Call Cory Wessels at 515-538-0450
LOCATION: From the west edge of Buffalo Center, 1 mile south on County Road R16. Watch for auction arrows.
NOTICE: This is a Live Onsite Auction with online bidding available Live Online bidding starting at approximately 11:15 A.M. (on major items only) 2% internet buyers fee with a $500.00 maximum per item will be charged to successful online buyers. No Buyers fee for Onsite buyers.
CLICK HERE FOR PRINTABLE FLYER #1 (PDF FORMAT)

TRACTORS
FORD VERSATILE 9680, 1995, SHOWING 4,956 HOURS, 855 CUMMINS, 4 REMOTES, ROCK BOX, 20.8X42 W/ DUALS, SER# D103033
JD 8300 MFWD, 1999, SHOWING 5,499 HOURS, P.S., 4 REMOTES, 3 PT W/ QUICK HITCH, PTO, 6 FRONT WEIGHTS, 18.4X46 W/ DUALS, SER# RW8300PO24055
JD 4630, POWERSHIFT, 1976, SHOWING 3,765 HOURS, 3 REMOTES, 3 PT W/ JD QUICK HITCH, PTO, 18.4X38 W/ DULAS, SER# 022990
COMBINE & HEADS
JD 9760 STS, 2010, 1,336 SEP. HOURS, 1,730 ENG. HOURS, PREMIER CAB, CONTOUR MASTER HI TORQUE VARIABLE SPEED FEEDER HOUSE, DELUXE HEADER CONTROL W/ HHS, WIDE SPREAD FINE CUT CHOPPER, EXTRA HIGH CAPACITY LIFT CYLINDERS, ADJUSTABLE REAR AXLE W/ HD SPINDLES, BIN EXT, 18.4X46 W/ DUALS, SER# 1H09670SK90735216, THIS COMBINE WAS IN TO THE JD SHOP EVERY YEAR FOR INSPECTION AND HAD NEEDED REPAIRS DONE.
JD 608C, 2012, STALK MASTER CHOPPING CORN HEAD, SER# HOO608CTCC746314
JD 930 PLATFORM, 1997, W/ FULL FINGER AUGER, 3" CUT, SER# 671119
SHOP BUILT HEAD TRAILER
PLANTER, SPRAYER, NUTRI PLACR
JD 7200 16 ROW 30", VACUUM, 3 BUSHEL BOXES, TRASH WHIPS, ROW CLEANERS, SER# 501317, HAS SHOP TICKETS OF $18,000.00 SPENT ON TOTAL RECONDITIONING IN MARCH 2018.
FAST 7400 SPRAYER, 1600 GALLON TANK, 80' BOOMS, RAVEN CONTROLLER, 14.9X46
FAST 8100 12/16 ROW NUTRIA PLACR, 1600 GALLON TANK, 380/90R46 TIRES, SER# 811633271110
TILLAGE EQUIPMENT
JD 2700 5 SHANK DISK RIPPER, SER# 000199
JD 2800 7 BOTTOM ON LAND HITCH PLOW
JD 980 38.5' FIELD CULTIVATOR W/ TANDEMS ON MAIN AND WINGS, 3 BAR HARROW, SER# 006303
MISCELLANEOUS EQUIPMENT
KINZE 1040 ROW CROP GRAIN CART, 18.4R38 W/ DULAS, SER# 503764
PARKER 250 BUSHEL GRAVITY BOX ON WESTENDORF GEAR W/ SEED BRUSH AUGERS
WESTFIELD 10"X71' AUGER W/ SWING HOPPER, PTO, SER# 132159
1000 GALLON ANHYDROUS TANK ON GEAR
400 GALLON FUEL TANK ON JD GEAR W/ PUMP
MISCELLANEOUS
8) JD SUITCASE WEIGHTS AND BRACKET FITS 8300
2) JD FRONT FUEL TANKS FIT 30 & 40 SERIES
18.4X38 9 BOLT DUALS, 80% RUBBER
3 SECTIONS OF 3 BAR HARROW
UNASSEMBLED- NEVER USED 24' BIN SWEEP
24' BIN SWEEP
3) ELECTRIC MOTORS
Notice
If you would like to view completed work orders and maintenance records on the combine send your request to Matt@GehlingAuction.com or call 1-800-770-0347
---
Lunch on grounds. Not responsible for accidents or theft. Once the auctioneer has sold an item it becomes the sole responsibility of the purchaser.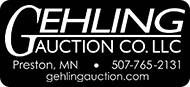 TERMS: Cash or good check the day of the auction. All items sell "AS IS" without warranty or guarantee of any kind expressed or implied. All purchases must be settled for before removal. Any verbal announcements made sale day take precedence over all forms of advertising.
AUCTIONEER: Matt Gehling, Dave Holstad, Roger Bentley, Roger Bullerman
CLERK: Gehling Auction Company LLC

www.gehlingauction.com
email: gehling@gehlingauction.com
---