Canton Dairy and Farm, Hay and Straw Auction
Monday, January 13, 2020
12:00 PM
U.S. HWY 52
CANTON, Minnesota
FOR MORE INFORMATION CALL JOSH AT CANTON DAIRY AND FARM 507.743.2250.
LOCATION: Canton Dairy and Farm on U.S. Hwy 52 near Canton, MN
NOTICE: One dollar per bale to load and unload. Hay Auctions are the 2nd Monday of the month. All loads must be on the lot by 4pm Friday January 10th.
---
HAY AUCTIONS ARE THE 2ND MONDAY OF THE MONTH NOV--APR. LUNCH ON GROUNDS. NOT RESPONSIBLE FOR ACCIDENTS.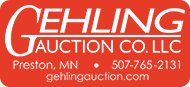 ---