Denny & Jeanie King (Timed Online Auction)
Friday, December 3, 2021
10:00 a.m.
79952 180th Street
Ostrander, Minnesota
Timed Online Auction: Bidding will open Monday, November 22nd at 10:00a.m. & Bidding starts closing Friday, December 3rd, 2021 at 10:00a.m. Central Time
Click here to sign up to bid online
LOCATION: All auction items are located at 79952 180th Street near Ostrander, MN. If you have any questions on the auction items call Denny King 507.259.9240
DIRECTIONS: CLICK HERE FOR DRIVING DIRECTIONS TO SALE SITE
NOTICE: This is an excellent line of low hour equipment that has always been shedded and very well maintained.
This is a timed online only auction. Viewing/inspection begins November 15th 9:00am-4:00pm. No Thanksgiving Day viewings.
TRACTORS
JD 8235R-MFWD-2013-1,624 HRS.-IVT-ILS-GREENSTAR 7" SCREEN-PREMIUM CAB COMMAND VIEW II-HID LIGHT PACKAGE-60 GALLON HYDRAULIC PUMP-5 REMOTES-3 PT.-QUICK HITCH-PTO-BUDDY SEAT-JD TOOL BOX-ROCK BOX-480/80R46 W/ DUALS-380/85R34- SER. # 1RW8235RJDD079018-GOLD KEY 1 OWNER TRACTOR
JD 2630 DISPLAY SF ONE, SF2 READY & HAS RAVEN PATCH-ROW SENSE ACTIVATION
3000 GLOBE-SF2 READY (DISPLAY AND GLOBE TO BE SOLD SEPARATELY)
JD 9200-1998-3,255 HRS.-24 SPEED-BROWN BOX W/ 200ATU AUTO STEER WHEEL & GLOBE-FIELD OFFICE-3 PT. QUICK HITCH 4 REMOTES-95% 520/85R42 W/ DUALS-SER # RW9200H001307
JD 4430-QUAD-1973-SHOWING 9316 HRS.-2 REMOTES-3 PT.-QUICK HITCH-PTO-FRONT WEIGHTS-CONVERTED TO 134 AIR-18.4X 38 W/ DUALS- SER # 015274-ORIGINAL 8 TRACK PLAYER WILL GO WITH TRACTOR
COMBINES AND HEAD
JD 9670STS-2011-1163 SEP./1681 ENGINE-PREMIER CAB-CONTOUR MASTER-EXTRA HICAP LIFT CYL.-PREMIER HYD. CONTROL PACKAGE-6.9M HI CAPACITY UNLOAD AUGER-FINE CUT CHOPPER-H.D. FINAL DRIVE-POWER ADJUST HEATED MIRRORS-LINCOLN LUBE SYSTEM-BIG TOP BIN EXTENSION-520/85R38 W/ DUALS-SER. # 1H09670SCB0741669-2ND OWNER-FRESH INSPECTION JUST COMPLETED AT SEMA EQUIPMENT
JD 608C STALKMASTER 8 ROW 30" CORN HEAD- W/ CHOPPER SHUT OFF-STALK STOMPERS- SER. # 1H00608CKCC74666, 2ND OWNER
JD 630F HYDRA FLEX PLATFORM-2011-SER. # 1H00630FCB0741815-2ND OWNER
HORST HEAD TRAILER-SER. # 121816
MISCELLANEOUS EQUIPMENT
BRENT 576 GRAIN CART-CAB CAM W/ 2 CAMERAS-24.5X32-SER. # D53850108-1 OWNER
JD 2210 38' 9" FIELD CULTIVATOR W/ TANDEMS ON MAIN FRAME AND WINGS-4 BAR HARROW-SER.# 008505-1 OWNER
IH 490 32' DISK W/ TANDEMS ON MAIN FRAME AND WINGS
RITE WAY 4300 42' ROLLER-SER. # 10-43-2067-1 OWNER
RITE WAY RR 250 ROCK PICKER-SER. # 01-250350R-1 OWNER
J & M 350 2 COMPARTMENT GRAVITY BOX ON J & M GEAR-DIGI STAR EZ 400 SCALE W/ UNVERFERTH 60B 6" CONVEYOR-HONDA ENGINE-ROLL TARP-16.5 X 16.1 TIRES
PLANTER-SPRAYERS
KINZE 3600 16 ROW 30" PLANTER-2012-AIR SEED DELIVERY-LIQUID FERTILIZER-ROW CLEANERS-TRASH COULTERS-INS. BOXES, CORN AND BEAN METERS-KPM 3 MONITOR-HAS DONE APPROX. 6,500-7,000 TOTAL ACRES-SER. # 625144-1 OWNER-1 SEASON APPROX.1000 ACRES ON NEW DISC OPENERS-SCRAPERS AND BEARINGS
TOP AIR 1200 SPRAYER-90' 5 SECTION BOOMS W/ SHUT OFFS-TRIPLE NOZZLE BODY-15" SPACING-RAVEN 450 CONTROLLER,CHEM INDUCTOR-SER. # B24520113-1 OWNER
WALSH 250 GALLON PULL TYPE SPRAYER W/ BOOM AND PUMP
2-200 GALLON SADDLE TANKS W/ BRACKETS-BRACKETS FOR JD 4430 AND JD 8120
GRAIN HANDLING EQUIPMENT
GSI-MODEL 1218 DRYER-VISION CONTROL SYSTEM-GALVANIZED STEEL LEGS-LOW USE-1 OWNER
ARTS WAY/ FETERL 10" X 66' AUGER-MODEL SD205891-15 HP. 3 PHASE MOTOR AND ALSO HAS PTO DRIVE SER. # AWA1066G001702
WESTFIELD 10" X 61' AUGER W/ SWING HOPPER-PTO-SER. # 210124
WESTFIELD 8" X 71' W/ 10 HP. 3 PHASE ELECTRIC MOTOR- SER. # 179871
WESTFIELD 8" X 36' AUGER W/ 7 1/2 HP. 3 PHASE ELECTRIC MOTOR-SER. # 121252
MISCELLANEOUS
24) DAWN SPIKE CLOSING WHEELS
2) 11:00/ 24SL 4 RIB TIRES ON RIMS OFF JD 8100
OUTBACK S LIGHTBAR GUIDANCE SYSTEM
HINIKER NH3 RATE CONTROLLER W/ RAVEN FLOW METER END VALVE W/ RAVEN 400 CONSOLE
DICKEY JOHN MINI GAC PLUS MOISTURE TESTER
JD HANDHELD MOISTURE TESTER
2) 3 1/2 HORSEPOWER TRANSFER PUMPS
8) VHF TWO WAY RADIOS
8) JD FRONT WEIGHTS & BRACKET OFF 4840
2) COMBINE STEER AXLE WHEEL WEIGHTS
20 HORSE-1750 RPM 3 PHASE ELECTRIC MOTOR
2) 15 HORSEPOWER-1750 RPM-3 PHASE ELECTRIC MOTOR
10 HORSEPOWER-1750 RPM-3 PHASE ELECTRIC MOTOR
2) 2 HORSEPOWER 1725 RPM-3 PHASE ELECTRIC MOTOR
3 ) 7 1/2 HORSEPOWER 3450 RPM-3 PHASE ELECTRIC MOTOR
1 HORSEPOWER 1725 RPM-SINGLE PHASE ELECTRIC MOTOR
TRUCKS & TRAILERS
2004-FREIGHTLINER COLUMBIA-DAY CAB-654,452 MILES-TWIN SCREW-C12 CAT-10 SPEED-22.5 RUBBER-FRESH DOT INSPECTION
1999-FREIGHTLINER FDL 112-495,882 MILES-ISM CUMMINS-ROCKWELL 10 SPEED DAY CAB-AIR RIDE-TWIN SCREW-11R22.5 RUBBER-FRESH DOT INSPECTION
2008-JET 34' HOPPER BOTTOM TRAILER-ROLL TARP-11R24.5-1 OWNER-FRESH DOT INSPECTION
1997-JET 34' HOPPER BOTTOM TRAILER W/ ROLL TARP-11R24.5-FRESH DOT INSPECTION-2ND OWNER
LACROSSE 34' LOWBOY TRAILER W/ 2 1500 GALLON POLY TANKS-2-5 HP. PUMPS-CHEMDUCTOR-8:25X15 RUBBER
---
If you have equipment questions call Denny King 507.259.9240
Not responsible for accidents. Inspections are encouraged. Load Out 9:00 AM To 4:00 PM Through December 15th.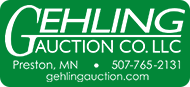 TERMS: All items are sold "AS IS". No warranty or guarantee implied or expressed by the Seller or Gehling Auction Company. Payment due by wire transfer, bankable check, or cash in person within 3 business days after the auction has ended. Nothing removed until settled for. THE BUYER IS STRONGLY ENCOURAGED TO INSPECT THE PROPERTY PRIOR TO BIDDING. Bids cannot be revoked once placed.
AUCTIONEER: Matt J. Gehling #2320008
CLERK: Gehling Auction Company LLC

www.gehlingauction.com
email: gehling@gehlingauction.com
---